Event Information
Jonathan's Walk4Friendship

Sunday, January 20, 2019
12:30pm - 4:00pm

Chaparral Park
5401 North Hayden Rd
Scottsdale, AZ 85250
Walk Information:
SAME GREAT CAUSE WITH A VIRTUAL TWIST.
Step up for kids with special needs.
With in-person gatherings off the table for now, this year we will be hosting a virtual walk. On January 31st, we encourage you to Walk4Friendship in a location of your choosing, while following CDC and state guidelines. Individuals and teams can plan their own walks in their backyard, neighborhood or on the treadmill! Additionally, we will be having staggered slots for your family to walk around Chaparral Park Lake while practicing social distancing.
Join us on the morning of January 31st for a virtual opening ceremony on our social media to begin the day of fun.
Jonathan was a participant of the Friends at Home program. Together with his buddy, Adam, he spent countless hours enjoying the camaraderie, friendship, and true acceptance. Their families connected and became fast friends. Their relationship truly reflects what the Friendship Circle is about. In 2010 Jonathan's soul left this world after a short battle with cancer. It is in his memory that we dedicate this walk.
Location;
Chaparral Park | 5401 North Hayden Rd | Scottsdale, AZ 85250
Sunday, January 31st, 2021
It's Virtual!
Walk on your treadmill, around the block, or any other endurance challenge you like!
Check out all the walk activities!
Details on where to park and shuttle routes.
Find out the beautiful walk route
Schedule
12:30pm
Get Ready....
1:30pm
Opening Ceremony
1:45pm
Walk begins.
2:15-4:00pm
Celebrate your success!
Previous Walk Highlights
Last Year's (2020) Entertainment Lineup
Flippenout Trampoline Show
The shows feature twisting triple flips, complex acrobatic routines, heights of 25 feet or more, snowboards, skis, ball, and cirque-style action. This is the next generation of extreme entertainment.
All Star Obstacle Course

Go head to head against friend or foe and rise to the top of the podium to be an official eye-candy all-star!
24' Huge Slide
Zoom down our huge inflatable slide.
The 24' tall slide is great for any age including teenagers and adults!
Pony Rides
How can you say no to a Pony ride! Led by an experienced handler, take a ride around Jonathan's Walk!
6 & Under Zone
Our 6-year-old and under section is great for small kids that are too small for a regular bounce house & activities but want something fun and interactive. Like any amusement park, children won't want to leave once they bounce, climb and slide their way through this bright, safe and colorful amusement park themed play center. Featuring a small slide, Bounce house & obstacle course.
Petting Zoo
Children love the thrill of touching, petting, feeding, and sometimes even riding exciting animals and reptiles while learning valuable information about them!
Animals are child safe. Food, brushes, and attendant are provided.
Raingutter Regatta
Led by Cub Scout Pack 210, try your hand on making the fasting sailboat. Show off your skills to your family and friends!
Face-painting
With paint, sponge and quick brush-strokes, you will be transform into a wild and colorful works of art!
Balloon Twisting
Every kid loves balloons. Let them choose their own fun character!
Inflatables
An all new selection of awesome inflatables are available for this year's Walk4Friendship.
Great Food
Lunch - Hotdog, Hamburgers, Chips & drinks will be available for sale.
Parking Information
There is plenty of Parking in the lots off of Jackrabbit Road & Hayden.
There are 2 auxiliary parking sites
We will be having a shuttle from the Main Parking Lot (#1 below) to the Registration area from 12:30pm-1:30pm.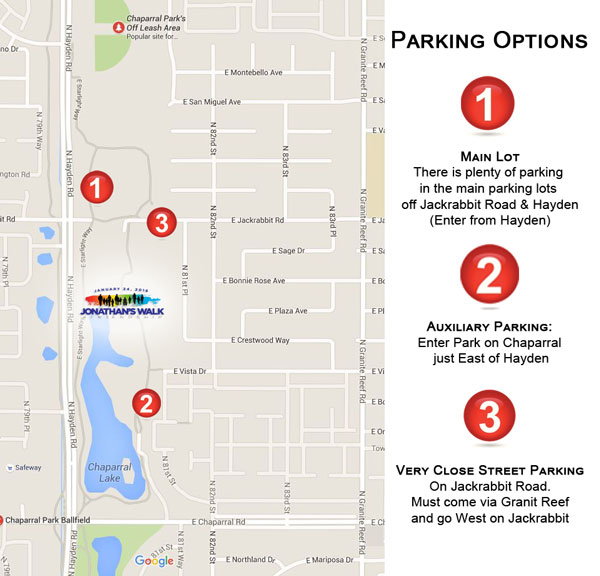 Support:
Need help? We've got you covered! Visit our support page by clicking here or give us a call at 602-861-1600.